Toyota Car Keys Specialists Newcastle
Lost your Keys? Need a Spare Key? Broken Key? Key Won't Turn?
Lock-M-Out Locksmiths have all your Toyota Car Key needs covered, our Mobile Locksmith workshop has all the latest Key Cutting and Toyota Key Transponder diagnostic equipment to handle any key problem you may have anywhere in the Newcastle, Lake Macquarie or Hunter Valley areas.
No matter what kind of Toyota you drive, whether it's a Kluger, Camry, Corolla, Aurion, Rav 4, Yaris, Echo, Fortuner, Landcruiser, Prado or Prius. Whether you've lost all your keys or just need a spare we can provide you with Newcastle's most cost-effective solution for Toyota Car Keys.
Toyota Immobiliser Systems Overview
Toyota vehicles Key Immobiliser Systems are a high security anti-theft system. When you insert your key into the ignition switch or bring your Smart Fob into the vehicle, the key transmits an electric code to the vehicle. The engine will only start if the code in the key or smart fob match the code in the vehicles immobiliser unit.
The problem with Toyota's immobiliser systems is how the key data is stored within the immobiliser unit, making Toyota vehicles very hard and expensive to make keys for in an all keys lost scenario. The only solution for a long time was to tow your vehicle back to Toyota and replace all the locks and the immobiliser unit.
Luckily with the latest technology available to Lock-M-Out Locksmiths we can reset your vehicles immobiliser unit (some models excluded) and supply you with Replacement Car Keys or Smart Fobs at a much more affordable price.
So, call or contact us to get a quote on all your Toyota Car Key needs.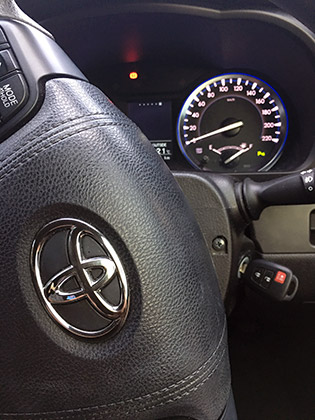 Lost Toyota Car Keys or Smart Fobs
If you've been unfortunate enough to lose all your Toyota Vehicles Keys or Smart Fobs, don't panic, Lock-M-out Locksmiths has you covered anywhere in Newcastle, Lake Macquarie or Hunter Valley regions.
Our Mobile Locksmith Service will come to your vehicle and supply Replacement Keys or Fobs on the spot (some models excluded).
Depending on the year model and make of your Toyota vehicle there are 3 different methods of how we get your vehicle back on the road: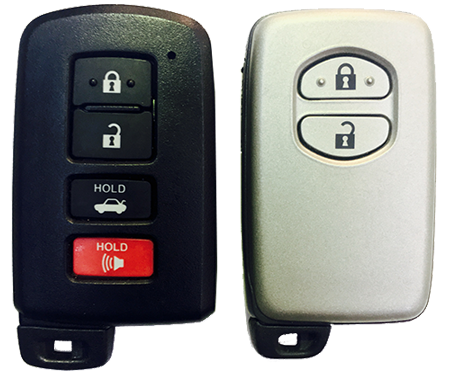 1. Removal of vehicles immobiliser unit or ECU unit and writing keys direct to the computer (Toyota models 1996–2004).
2. Reset vehicles immobiliser unit via plugging into the OBD port and programming new keys to the immobiliser unit (Toyota models 2004–2014).
3. Replace immobiliser unit with new factory immobiliser unit and link new immobiliser unit with existing ECU (Toyota models 2014–current).
Get a Quote
Call Now
Lost Toyota Smart / Proximity Keys
If you have lost all your Toyota Smart / Proximity Fob Keys, Lock-M-Out Locksmiths have the specialised diagnostic equipment to get your Toyota vehicle back on the road fast. Until recently the only option was to tow your vehicle to a Toyota dealer and pay thousands of dollars to get replacement Fobs. Our new technology allows us to provide this service at a fraction of the cost saving you real time and money.
Application List (guide only):
Toyota Camry Hybrid AHV40 (2009–2012)
Toyota 86 ZN6 (2012–onwards)
Toyota Aurion (2006–2013)
Toyota Prado (2009–2013)
Toyota Prius (2009–2013)
Toyota Landcruiser 200 Series (2007–2008)
Toyota Kluger Grande (2007–2011)
Toyota Landcruiser GX 200 Series (2008–2013)
If your model is not listed please call or contact us to discuss a solution.
Lock-M-Out Locksmiths also has Newcastle's best prices on spare smart keys to suit your Toyota vehicle.
Get a Quote
Call Now